WELCOME TO COPENHAGEN – a mini guide
We are looking forward to welcoming you to the capital of Denmark. There are plenty of interesting things to do and see in Copenhagen during your spare time, so don't worry, your stay here will not just be about coffee.
Here we have compiled an easily accessible overview of where to sleep, eat and do some shopping. And of course a few tips on where to get caffeinated!
We have focused on places to stay in the centre of Copenhagen so you have the easy opportunity to immerse yourself in all that Copenhagen has to offer.
Low budget:
Annex Copenhagen
Hostels with funky, functional and nice rooms situated in the centre of Copenhagen
www.annexcopenhagen.dk
Cabinn
Affordable hostels in the centre of Copenhagen.
www.cabinn.com
Medium budget:
The Radisson chain has three hotels in central Copenhagen.
www.radissonblu.com
The Scandic hotels close to Tivoli and the lakes are also obvious choices for mid-budget.
www.scandichotels.dk
Treat yourself:
Try the Guldsmeden Hotels and their nouveau bohemian sustainable boutique hotels.
www.guldsmedenhotels.com
Or check out the fashionable hotel Skt Petri in the heart of Copenhagen
www.sktpetri.com
booking.com, hotels.com, www.momondo.dk/hoteller and google.com can of course also help you to find a hotel to suit your taste and budget.
Or you can live like a Dane and hire an apartement to suit your needs perfectly through airbnb.com

Copenhagen is a food mecca and you can find restaurants to suit all wallets and tastes. One of the trendiest areas right now is the old meatpacking district, Kødbyen, quite close to the main railway station. Here you will find a myriad of restaurants, bars and discos.
Cofoco is the name behind a bunch of guys who have managed to establish some of the city's best-for-price restaurants. You never go wrong in one of their many restaurants with different themes. The latest additions, Höst and Llama require dinner reservations in advance. See www.cofoco.dk
You will find a similar concept in the various popular restaurants of the famous Danish TV chef Anders Aagaard: http://www.madklubben.dk/en/about-madklubben/
Visit also Nyhavn – a classic attraction for the first time visitors in Copenhagen. Here along the canal you will find an evocative part of Copenhagen with pubs and restaurants serving traditional Danish cuisine – but watch out – it's a tourist trap.
At VisitCopenhagen you can find suggestions for all kinds of restaurants and wallets!
Coffee shops

Copenhagen's pedestrian street, also known as Strøget, offers more than a kilometre of shopping temptations, and houses all the big chains that you might recognise from your own country 😉 In the small charming narrow streets surrounding Strøget, you can find some smaller shops with Danish designs.
Wanna be a hipster? Then visit the neighbourhoods of Vesterbro and Nørrebro with the trendy cafés and small shops in Jægersborggade, Elmegade, Værnedamsvej and Istedgade. The neighbourhoods of Østerbro and Frederiksberg are more residential but still offer a lot of charm, shopping and cafés.
If you like big shopping centres, you can check out Fields which is one of Scandinavia's largest shopping centres. Another big shopping centre very close to Copenhagen's central station is Fisketorvet or the Frederiksberg Center just at Frederiksberg Station.
Copenhagen airport is just outside the city centre, so when you arrive by plane, you can quickly and easily reach the centre and settle in at your accommodation. You can either take a metro train to the Nørreport station, or a regional train to Copenhagen Central station – both options will take you about 20 minutes to reach the heart of Copenhagen and from there you can continue by foot to your accommodation.
Of course you can also take a taxi from the airport directly to your hotel (expect a price of about 300 kr). Coffee Mind Academy is situated only 12 minutes by car from the airport and the city centre. Copenhagen's public transport consists of a solid network covering most of the city with buses, subway trains and S-trains.  Alternatively, why not do as the people of Copenhagen do themselves: bike! There are many possibilities for renting bikes at reasonable prices, and the city is geared up with wide cycling lanes pretty much everywhere.
For further details and tips to help plan your stay in Copenhagen perfectly, we recommend that you visit the official website of Wonderful Copenhagen: http://www.visitcopenhagen.com/copenhagen-tourist
DIRECTIONS TO COFFEMIND´S TRAINING FACILITIES
The address is:
Kontra Coffee
Jernholmen 43-47
2650 Hvidovre
Unfortunately the individual businesses in the building do not have their own house number, so we are situated in the range between 43 and 47 on the street. The exact coordinates are 55.607043, 12.491117 and will bring you to the front door. The google street view is not updated with Kontras presences on the street, but this is what the gate looks like.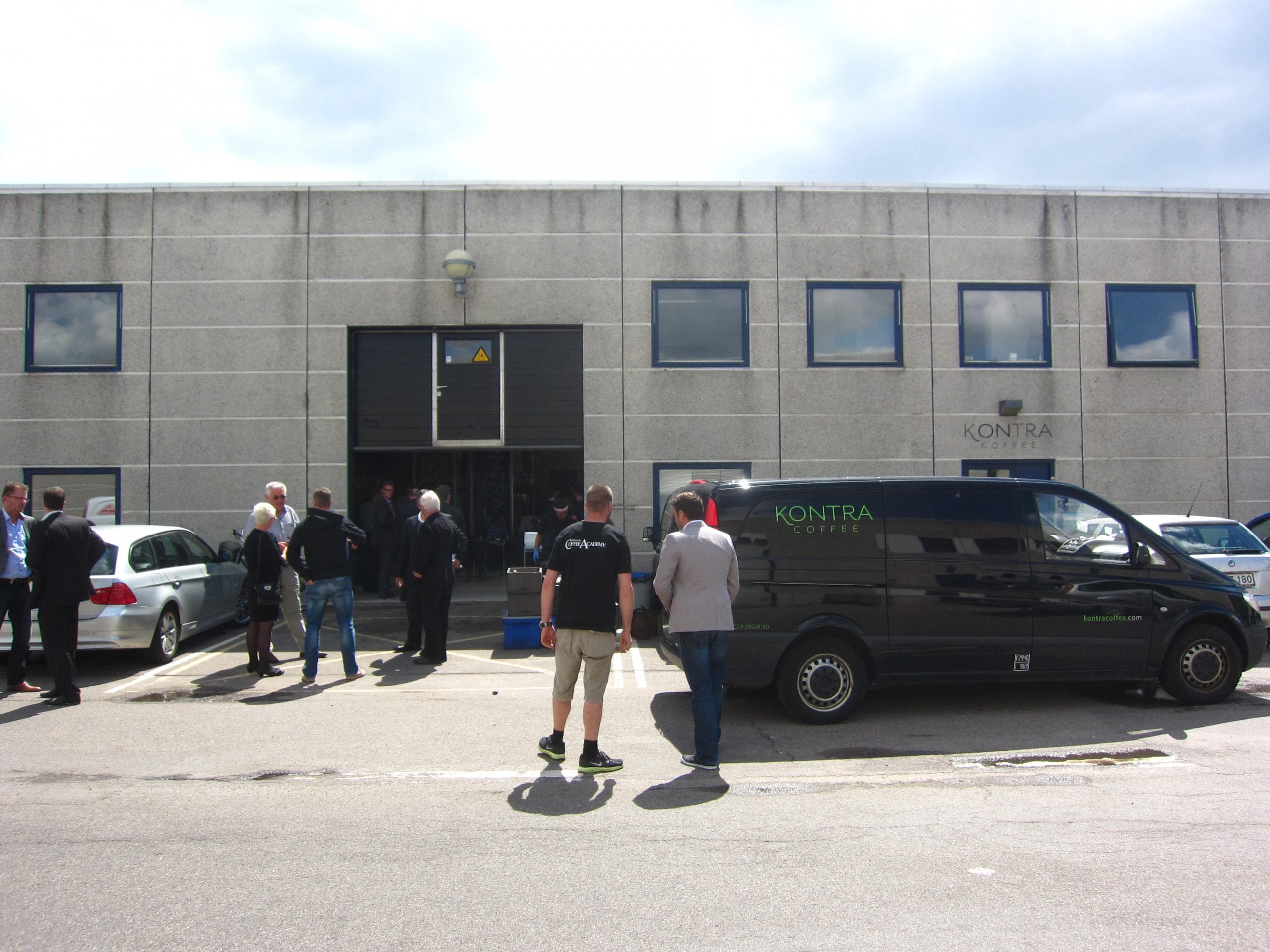 Getting there from city Centre by public transport
The closest S-train station is Friheden station (12 – 14 min ride from Copenhagen Central Station and Nørreport Station) and from there you can take a Bus 139 and 10 min later you will be at the right building.
You can check the possible connections at Rejseplanen
From the airport
Our training facilities are situated just 12 min in taxi from the airport and no public transport would be worth considering as an alternative on that route.