SCA Coffee Roasting Intermediate
Develop your coffee roasting skills further with the SCA Coffee Roasting Intermediate course under the inspirational tuition of  Morten Münchow – the creator of the SCA Certification system for Coffee Roasting.
Have you gained the basic knowledge and skills within coffee roasting, but wish to further develop these skills? Then the SCA Coffee Roasting Intermediate Course will take you on a rich learning journey:
Gain a more elaborate understanding of the roasting process and how different kinds of heat transfer is at play.
Learn how different roast profiles vary sensory expression for the same coffee even at the same roast degree.
Understand roast defects and how to avoid them, and learn about the basic physical changes that the beans undergo during the roasting process.
Develop your skills in workspace management and lean production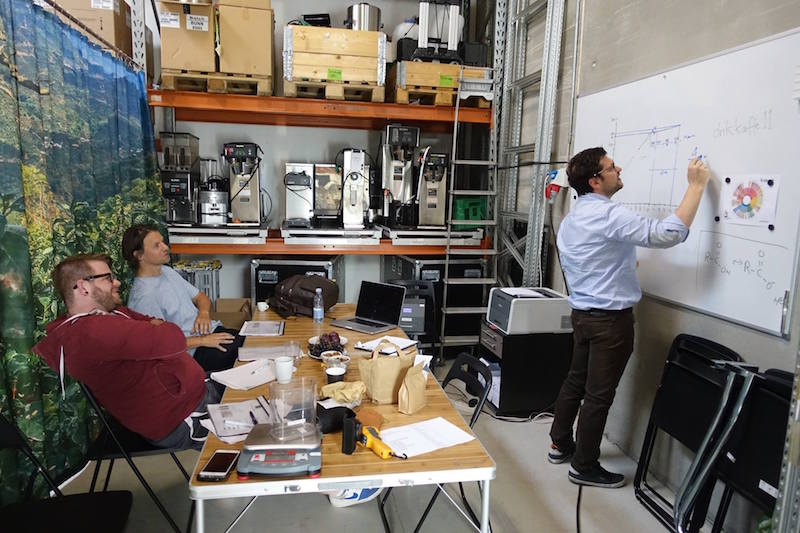 Prerequisites: It is recommended that you have the Roasting Foundation certification or gained some experience of working in this field.
You will train in small groups with no more than 6 students in Morten's lab at the Kontra Coffee Roastery in Copenhagen. The roastery is fully functional and has over ten years experience of delivering coffee excellence to the Danish market.
The course provides you with the key information enabling you to receive your SCAE Coffee Roasting Intermediate certification that consists of 4 short practical exams and a written exam (25 questions with a pass rate of 70% required).
Upon successful completion of the course, you will be awarded 10 points towards the SCAE Coffee Diploma.
Reviews for SCA Coffee Roasting Intermediate
Ben Townsend (verified owner) – August 19, 2015: 5 STARS *****

The perfect combination of science and roasting craft. The equipment provided is cutting edge too – you will learn a lot about roaster setup and design.
Hard to imagine a better course than this.
[av_hr class='default' height='50' shadow='no-shadow' position='center' custom_border='av-border-thin' custom_width='50px' custom_border_color=" custom_margin_top='30px' custom_margin_bottom='30px' icon_select='yes' custom_icon_color=" icon='ue808′ font='entypo-fontello']
Alexander "Alec" Pfuhl – August 25, 2015: 5 STARS *****
I have been roasting for more than 8 years. Instead of just doing my Intermediate Level, I wanted to take the chance, got to CoffeeMind and gain more scientific understanding of what I am doing each day. Morten was a great teacher! I was able to get answers to questions, I have had for a long time. I really enjoyed the conversations and discussions, we had in class. Even it might be (a bit) geeky, I am looking forward to do my Professional Level at CoffeeMind and get deeper into the physics and chemistry of roasting.
The whole experience was great. CoffeeMind has a cooperation with Kontra Coffee so the courses took place at Kontra, which was a great location to do the courses. The whole Kontra staff was so nice. Morten and Ida were great host and really taking care. Copenhagen itself was a nice experience as well. So even the week was very intense, it almost felt like a holiday and I learned so much!
Thank you very much and I am looking forward to come back for the Professional level!