100 Work flow paper cards
€15.00 ex. vat
Description
Ever had a challenge remembering what coffee is in that hopper? Or added a batch of roasted coffee to the wrong bags? Or just suspected – after all is roasted and packed – that there might be some bags with the wrong coffee in them?
As a consultant, Morten has seen this many times (and he does remember a few embarrassing moments from his own experience as roast master) and developed a really simple system to really minimize the risk of this happening (there exist no pattern and this is so simple that it has probably been 'invented' numerous times independently of each other): On each container that would hold the batch of coffee in the workflow a small adhesive transparent business card pocket is placed. During production a business card with the name of the coffee added to the container is put in the plastic pocket to indicate the coffee contained. When the batch of coffee moves through the system, the business card moves from pocket to pocket so you are never in doubt about what coffee you have in your container. Please see this picture for how it works: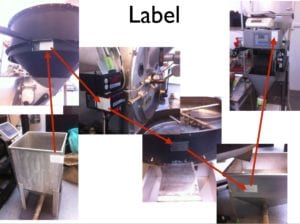 Some people are able to remember (99% of the times correctly, but what about the 1%?) what is moving through the system, but when CoffeeMind consult, we put emphasis on always to develop a system for trivial information of processes so that your important mind can be preoccupied with projects (such as business development and/or product development – rather than trivial processes!)
The above is designed to keep your production work flow efficient and error free. The blank page of the business card is for the above mentioned system where you can write the coffee type with fat magic marker so it is visible from distant places in your roastery during production time.
The other side of the business card is a template that makes it possible for you to note down all important properties of the batch of coffee so that you have it in a small handy business card format when you cup the coffees
Additional information
| | |
| --- | --- |
| Weight | 0.160 kg |
| Type of service | Equipment |